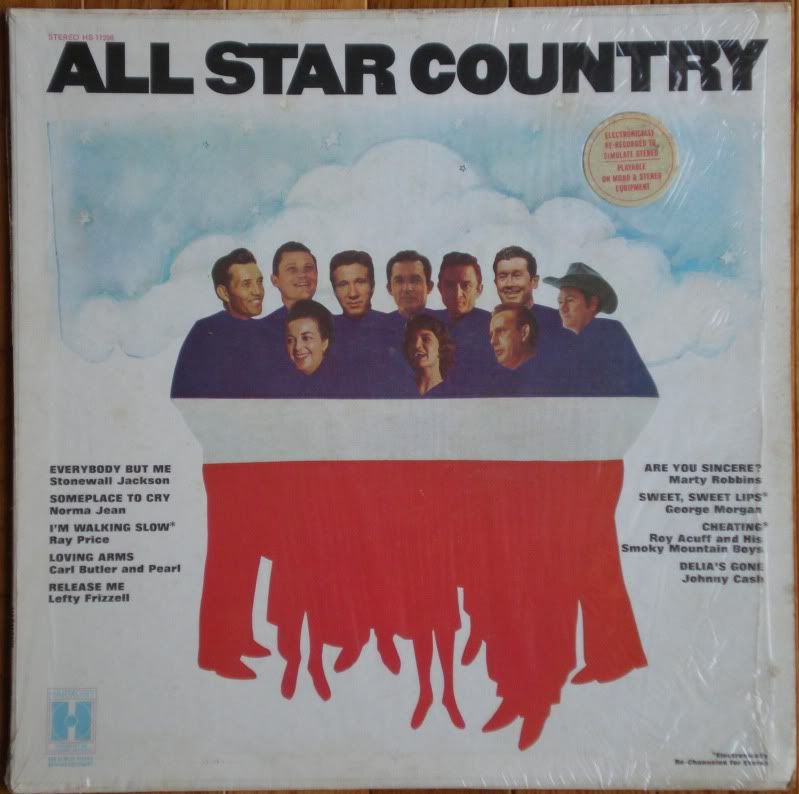 I'm uploading this today because I'm listening it this morning. I love this record. There are no real surprises here, just a really solid, if maybe too short, collection of good stuff.
I got this when I was working at a coffee shop where a
local record collector/dealer
had dropped off a few crates of three dollar records for us to sell. I pulled this one out because it has a Lefty Frizzell song on it that I had heard bu did not own. I think that first night, I played this record for probably three hours straight. It may have been that Norma Jean song that hooked me.
Whatever it was (is), this remains my favorite country compilation. It's a good record for a Sunday morning, which is why I'm uploading it now, but it works pretty much any time. This is really good stuff.
Enjoy
!
And you should totally click on the link in the second paragraph and buy some records from Kurt. I say without hesitation that he has lots of stuff you want.
Tracklist:
Roy Acuff and His Smoky Mountain Boys - "Cheating"
Norma Jean - "Someplace To Cry"
Carl Butler and Pearl - "Loving Arms"
Lefty Frizzell - "Release Me"
Johnny Cash - "Delia's Gone"
Marty Robbins - "Are You Sincere?"
Stonewall Jackson - "Everybody But Me"
George Morgan - "Sweet, Sweet Lips"
Ray Price - "I'm Walking Slow (And Thinking 'Bout Her)"