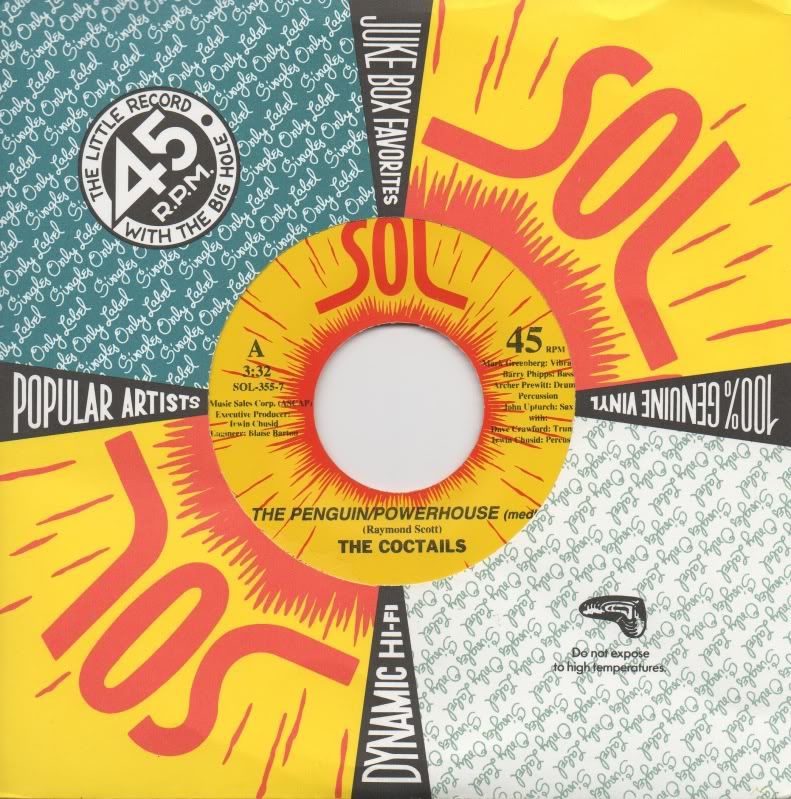 Man, The Coctails. They're really good. I said pretty much everything I really had to say about them the
last time
I posted one of their records. Here they are doing a Raymond Scott medley and an original. They're both amazing and will probably make you want to jump around the room. Thanks to digital technology, you don't have to worry about the record skipping.
This was released in 1993 on the Singles Only Label, which put out some good records. The A side features Poi Dog Pondering trumpet player Dave Crawford, and percussion by
WFMU DJ
and
author
Irwin Chusid
, who's also credited as "executive producer" of this record.
Both of these songs are available on The Coctails "Popcorn Box" 3-Disc retrospective (
details here
), so if you want some more good music in your world you should maybe consider purchasing a physical copy or buying a download of this collection.
I have included scans of the front and back of this record in and out of the nicely-designed Singles Only Label sleeve.
Click here
to download Singles Only Label catalog # 355-7
I also had it pointed out to me that the link above was originally pointing to the wrong place. If you click on the "Click here" link above, it will take you to the download page now. Sorry, internet!