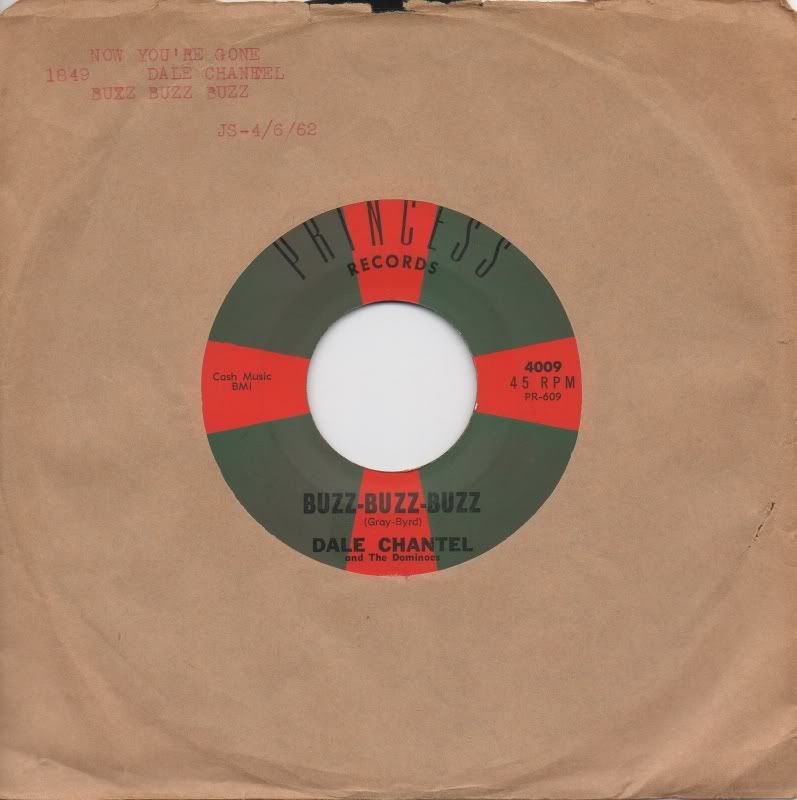 Okay, so I guess I'm opening this thing back up with this, the first post since January of this year, and I decided that I'd maybe use the internet to share music with people. I am pretty sure that I am the first guy in history to have this idea, so if you see anyone else doing it, they're ripping me off.
All the kids are into free music, right? Well, dammit, I'm gonna give it to them, whether they like it or not! I'm not going to put anything up here that I can find anywhere else, though. That's too much. You are on the internet, so I am sure that means you know how to find music.
Today's record is both sides of Princess Records PR-609 45 featuring 2 songs by Dale Chantel and The Dominoes, about whom I know nothing. The A-Side of this is really great, though. Buzz Buzz Buzz is 2 minutes of awesome that even includes some flutin' in the background. "Now You're Gone" is sort of boring, but if you need something to listen to during a 2 minute nap, then here you go.
Anyway... please listen to this and leave a comment letting me know what you think. Now that I have a MUCH easier way (thanks, Jeremy) to put my stupid records on the internet, you can probably look forward to more bullshit like this. Also, probably more scans of old shopping bags, bumper stickers and postcards. This will probably be the most popular "web-site" on the internet soon! Hooray for me!
Go on and click here to download the songs
. I scanned the labels on both sides of the record, too, so if you're one of
those
kind of nerds, I've got you covered.