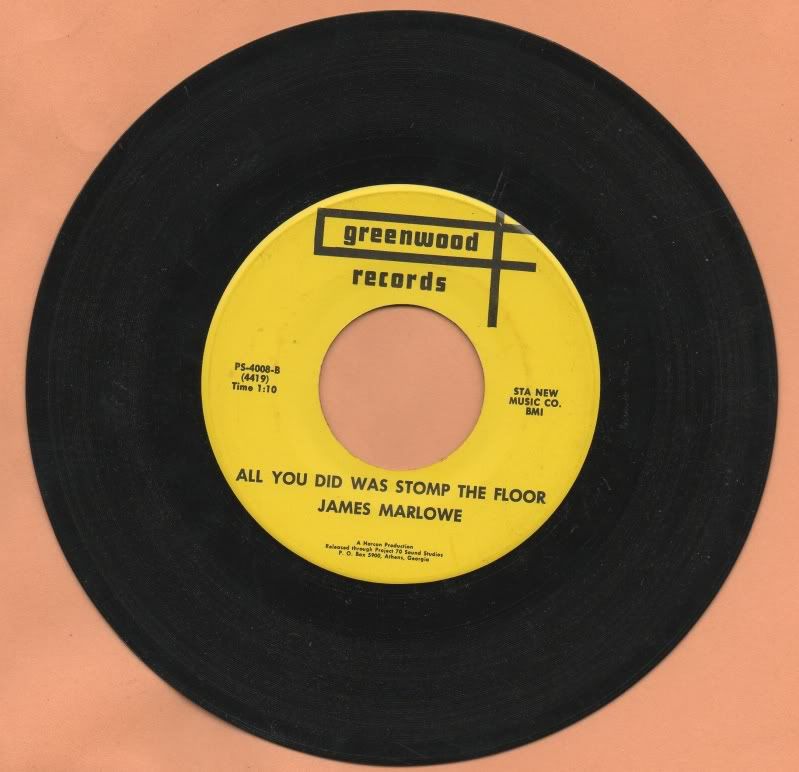 James Marlowe. James Marlowe. Oh, man, James Marlowe. Everyone who has more than a passing interest in records has their own "James Marlowe". Some record that just sits there taunting you and leaving you begging to know more. I saw this in a box, and I'm not going to leave a record with a song called "All You Did Was Stomp The Floor" just
sitting
there. Man, am I ever glad I did.
James Marlowe was probably from Athens or from the Athens area, but he's not listed in the phone book now. I have never met anyone who knows him, knew him, or knows anything about him. Maybe he'll find this somehow and get in touch. I have to know things like where this was recorded, who is "Greenwood Records", and about 100 more questions.
The sound on this, by the way, is pretty close to what's on the vinyl. The distortion and loudness are there on the record, too, and not a function of any computer trickery (or malfunction, as the case may be). Look, I don't want to talk this one up too much. Just listen to this one, and let it get you through the weekend. This is the best record you'll hear all day.
Click here to download Greenwood Records PS-4008
.