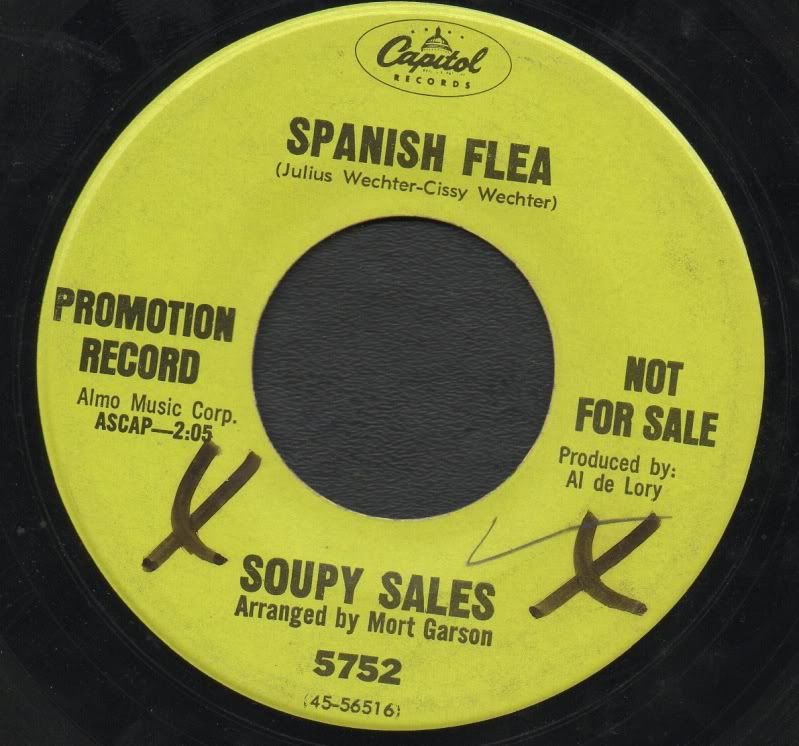 What's your favorite song? My 2-year-old son's answer to this question would instantly be "Spanish Flea". Not this version...the Herb Alpert & The Tijuana Brass version. He loves that song.
This version confuses him, because as far as he is concerned, "Spanish Flea" is not
supposed
to have lyrics. He hasn't seen that one episode of The Simpsons where homer sings part of it. You probably have, right? I couldn't find a good clip of it on youtube, but
here
is a crappy one.
Anyway, it's Soupy Sales and it's awesome. I was going to make a joke here about his (Soupy's) son's band and how terrible it was but I thought that would seem forced. Although I'm pretty sure I just did make that joke. Oh, well.
The B-Side is about the dangers of driving around with a guy who has "that long Liverpool hair" in your car because your girlfriend will break up with you because she saw him and thought he was a girl. Those were simpler times, I guess.
Here is a little Spanish flea
...