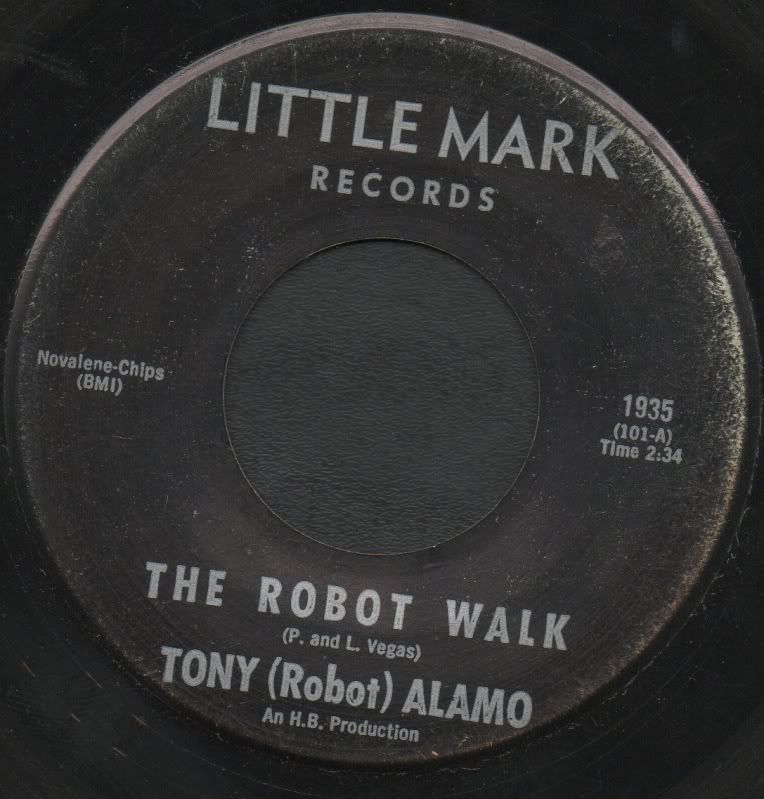 I didn't know anything about Tony (Robot) Alamo before a couple of days ago. I mean, I knew he made this record, because I have it. But that's it. So let's get the record part out of the way. It's a remake of a song from the last record I posted, Pat and Lolly Vegas' "Robot Walk". This one's louder and more bombastic and has a robot voice in the middle part that's a little more...menacing than the Vegas brothers' version. One has to give bonus points for being the original, but I always gave the edge to Mr. Alamo. It just seems like he wants it more.
Now, on to what I have learned. Keep in mind that I do not know with 100% certainty that we are talking about the
same
Tony Alamo here, but the record I'm posting here today is mentioned on a couple of anti-Tony Alamo message boards, so I feel fairly confident that it is. Also, the Tony Alamo I about to tell you about was born in 1935, which is the catalog number of this record. This
could
be a coincidence, though.
Anti-Tony Alamo message boards, you ask? Yep.
Let's start with the Wikipedia page
. Seems Mr. Alamo is the leader of a religious organization called "Tony Alamo Christian Ministries". Mr. Alamo is currently in jail awaiting a trial for "charges of taking minor girls across state lines for sex" (Wikipedia).
Five days ago, Alamo entered a guilty plea in Arkansas for failing to register as a sex offender
. This information, as pointed out in a comment below, appears to have been incorrectly reported, and the article from which I originally got that information no longer shows up in a Google News search for "Tony Alamo".
Alamo's connection to pop music is a strange one as well, considering the existence of
another
Tony Alamo, a big-band singer born in Havana, Cuba. Tony (Robot) Alamo allegedly took credit for the work of this Tony Alamo when talking to his followers about his past. Honestly, the whole Tony Alamo thing jut gets weirder the more I read about it.
Here
is a link to a message board where Tony (Robot) Alamo's musical past is discussed along with more...troubling aspects of his life.
You know what?
I Googled it for you
. You can listen to his music while you read through all that.
Click here
to enjoy another version of "The Robot Walk", with a past somewhat more colorful past than merely appearing in a movie called
The Nasty Rabbit
.